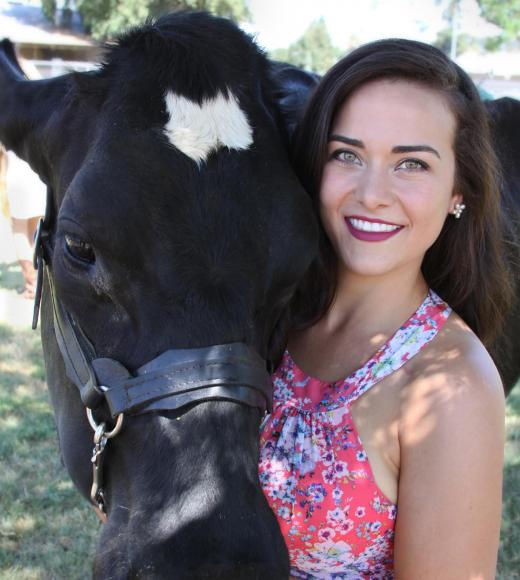 Unit

CLEAR Center

Department of Animal Science

UC Davis
Bio
Carlyn Peterson, M.S., is a Ph.D. candidate in the Animal Biology Graduate Group at the University of California, Davis. Carlyn's research interests focus on how the nutrition of cattle can contribute to a variety of factors including ensuring the health of the animal and a safe food supply, while mitigating impacts on the environment. She has contributed to and been the lead on several beef and dairy feeding trials aimed at decreasing environmental impacts. Carlyn has also completed numerous studies on waste management from dairy facilities with the goal of decreasing greenhouse gases and improving air quality. 
In addition to research, Carlyn has an extensive teaching and mentoring portfolio. She has taught a variety of courses in her home department of Animal Science including introductory Animal Science, Animal Nutrition, and Dairy Production; among others. For the last three years she has been able to work with 60 first year students as a mentor for the Career Discovery Group Program. She is now the Lead Teaching Assistant for the course in which she is directly responsible for lesson plan design, alignment of student learning objectives, and mentor professional development. Carlyn has created and twice facilitated the Mentoring 101 workshop series for graduate students and postdocs in STEM. She has been recognized for her successful teaching as a recipient of the Outstanding Graduate Student Teaching Award.
Besides being a busy graduate student, Carlyn spends lots of time with her puppy Bentley and she enjoys being active, exploring new restaurants, and visiting Napa and Tahoe. 
Education
Ph.D. in Animal Biology, University of California, Davis (degree expected Summer 2020)

M.S. in Animal Biology, University of California, Davis (2016)

B.S. in Animal Science (Livestock and Dairy emphasis), University of California, Davis (2012)
Research Interests
Nutrition of livestock, primarily dairy cattle, and methods to manage and mitigate their environmental impacts.
Publications
Peterson, C.B.

, El Mashad, H.M., Zhao, Y.,Pan, Y., Mitloehner, F.M. Effects of SOP Lagoon on Gaseous Emissions from Stored Liquid Dairy Manure. Sustainability (submitted).

Werth, S.J., Peterson, C.B., Schusterman, E.G., Mitloehner, F.M. 2013. Chapter 90: Air: Confined animal facilities and air quality issues. Encyclopedia of Agriculture and Food Systems. 
Alhaddad, H., Gandolfi, B., Grahn, R. A., Rah, H. C., Peterson, C. B., Maggs, D. J., Good, K. L., Pedersen, N. C., Lyons, L. A. 2013. Genome-wide association and linkage analyses localize a progressive retinal atrophy locus in Persian cats. Mammalian Genome. Manuscript ID MG-OC-14-0020. 
Pollard, R. E., Koehne, A. L., Peterson, C. B., Lyons, L. A., Japanese Bobtail: Vertebral morphology and genetic characterization of an established cat breed. Journal of Feline Medicine and Surgery. JFMS-14-0053.